About the Bus That Abides
We are normal everyday people. The kind of people no one takes notice of on the street. Maybe that is why we get such strange looks when we say we have a converted school bus.
Our Skoolie: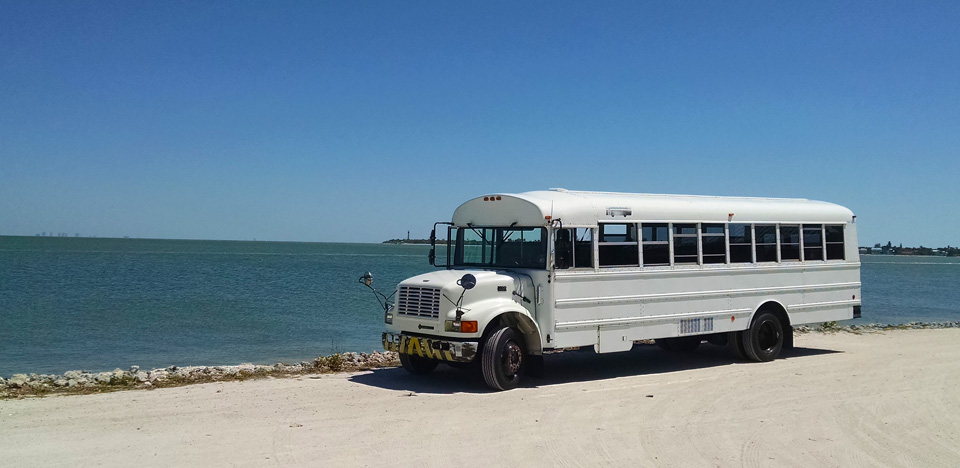 We have a 1995 International 3800 Thomas school bus. It has a T444E Navistar turbo charged engine. This is basically the same engine as the 7.3 Ltr  PowerStroke engines found in Ford trucks. The bus version of the engine uses a different crank shaft and a different water pump. Other than that most other parts are the same.
Our T444E is rated to have a peak horsepower of 184 @ 2200 RPM and 460 ft-lb or torque @ 1400 RPM. The engine is electronically governed at 2600 RPM. This bus was one of the first vehicles to have a fly-by-wire throttle pedal.
The transmission is an Allison AT545< automatic transmission. This is a 4 speed transmission and it was common in school busses and medium duty trucks. It does not have a locking torque converter, which means it always uses the transmission fluid to transfer the power to the wheels. The result is higher operating temps and no overdrive on the highway.
Between the RPM limit and the AT545 transmission, the top speed of the bus is 65 MPH. It can easily keep up with traffic around town. On the highway (70 MPH Speed Limit) we can keep pace, we actually pass a few people.
It is 10 feet tall and about 35 feet long, nine windows. Because this was a Navy bus, and never designed to carry children is has a slightly elevated roof. Which gives you an extra few inches of head room. A 6 foot tall person will find they have 5 or 6 inches of headroom.
Why a school bus?
That is a fair question. We like the sturdy, heavy duty feel of a bus over a traditional RV. We like the utilitarian look and feel of a school bus. The iconic shape brings up nostalgic feelings for almost everyone. Converting a school bus also allows us to build the RV just the way we want it.
Over the past 20+ years we have not benefitted from the "American Dream" of home ownership. We decided that it was not worth chasing a dream that was not really "our" dream. Our desire was to live smaller, giving emphasis on quality and not quantity. We want to see more of America and to be a bit more adventurous, while still having our own bathroom close by.
Plus, we think a school bus is cool!
Our Dream is to eventually live in the school bus full-time and travel around the country. That might be a ways off right now, but as they say, "if you will it, it is no dream!"
We will use this blog to chronicle our journey of converting our bus into our home on wheels. Sharing our knowledge and what we do right and what we do wrong will hopefully be useful to someone. So ask us questions, let us know what you think and maybe we'll have some fun along the way.